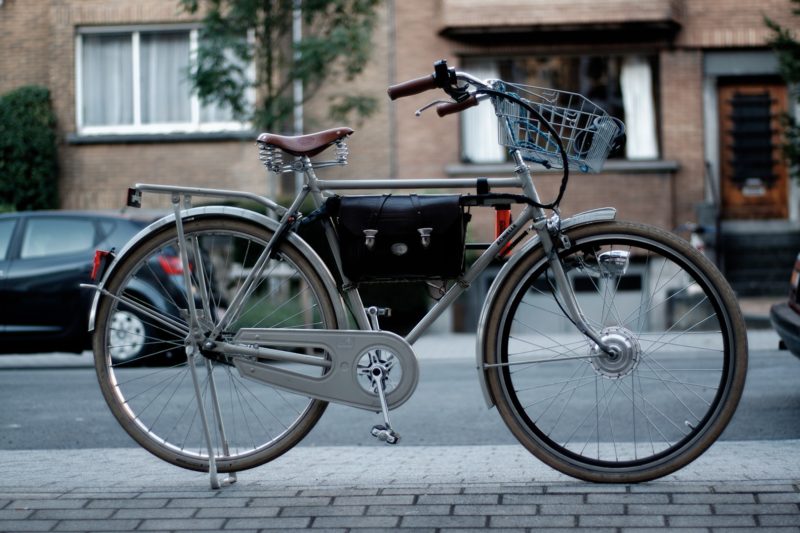 No Smoke
It was in early 2011 when I radically changed my life. From one day to the other I quit smoking. From rolling almost 20 grams of tobacco every day down to zero. Proud! Along with that, I realised that it would be good to move a bit more, not only occasionally, but ideally on a daily basis. Additionally, during this time the traffic-jams were getting worse, and I had the feeling that I was spending too much time in the car each morning.
Taking the motorcycle was not a feasible option. Too heavy in traffic and getting on- and off all the protective gear nearly ate up the time advantages gained from bypassing traffic.
Even the old but well maintained 1974 Velo Solex was not an real option, Belgium law requires to wear a helmet on this slow bicycle-like thing – if I do, I really feel like one of the foolish crash pilots from a funny Belgium comic.
Move
Finally the idea was born to get me a new bicycle. In the local bicycle store, I directly fell in love with an vintage looking, beautiful Belgium made Achielle bike.
The shop owner made me an interesting offer while telling me that most of his customers were now asking for carbon and high tech bikes.
It was not my goal to get a bike for serious sports but to use it to go to work or downtown occasionally, the Achielle seemed to be a perfect fit on the first look. However, there was only one model in stock. This model had no gears at all. Less than ideal for Brussels, this part of Belgium is not flat, it has at least some hills.
At this time e-bikes were entering the mainstream market but they were neither beautiful nor stylish and associated with something like 'for elderly persons only'. Ok, I am also not the youngest anymore but I think, e-bikes can, in some situations, be more efficient and sustainable people-mover than any other form of individual- or public transportation. Compared to the classical push-bike it has one bit advantage – if you're focused on transport and not on work-out, even the untrained can reach to the office without sweating like hell 😉
No nice and stylish e-bikes
However, there was nothing I liked on the marked of e-bikes.
When I saw this beautiful Achielle bike, immediately the idea was born to convert it into an stylish e-bike. The very solid and special frame construction of this Achielle Craighton Pure was the ideal basis for the modifications.
Achielle Craighton Pure as basis
An 150 VA engine was quickly installed in the front wheel. The power electronics, the battery as well as some anti theft protection and the tracking device is installed in an ancient rucksack made of 4mm strong leather which is mounted in the centre of the frame. This gives optimum load balancing. For legal conformance, the system is controlled by a pedal sensor and top-speed and power is limited. Test drives showed, that I have a range of about 80km without re-charge, outperforming nearly every cyclist.